MANAEL Self Timing Muzzle Brake
Finally, you can choose a brake that looks amazing, offer competition-level recoil management and that you can easily fit and time it yourself!
Drop recoil to a minimum and keep your rifle straight for rapid target acquisition with specialised side ports. Easily redirect gasses for maximum recoil management.
Rearwards facing ports to further reduce felt recoil.
Sleek, sexy lines create a powerful silhouette.
Designed for precision rifle competition by Australian firearms manufacturers MANAEL (and fellow sponsors of Precision Rifle Series Australia).
Easy to install - screw onto your muzzle thread, lock in place using the jam nut. It won't go anywhere with the supplied lock nut tightening tool to secure it in place.
Plus the lock nut tool doubles as a bottle opener!
Need a muzzle thread cut on your barrel? Our gunsmith's can help (sales@iceng.com.au)
Pair it up with the matching MANAEL Barrel Tuner to get maximum performance out of your barrel and loads.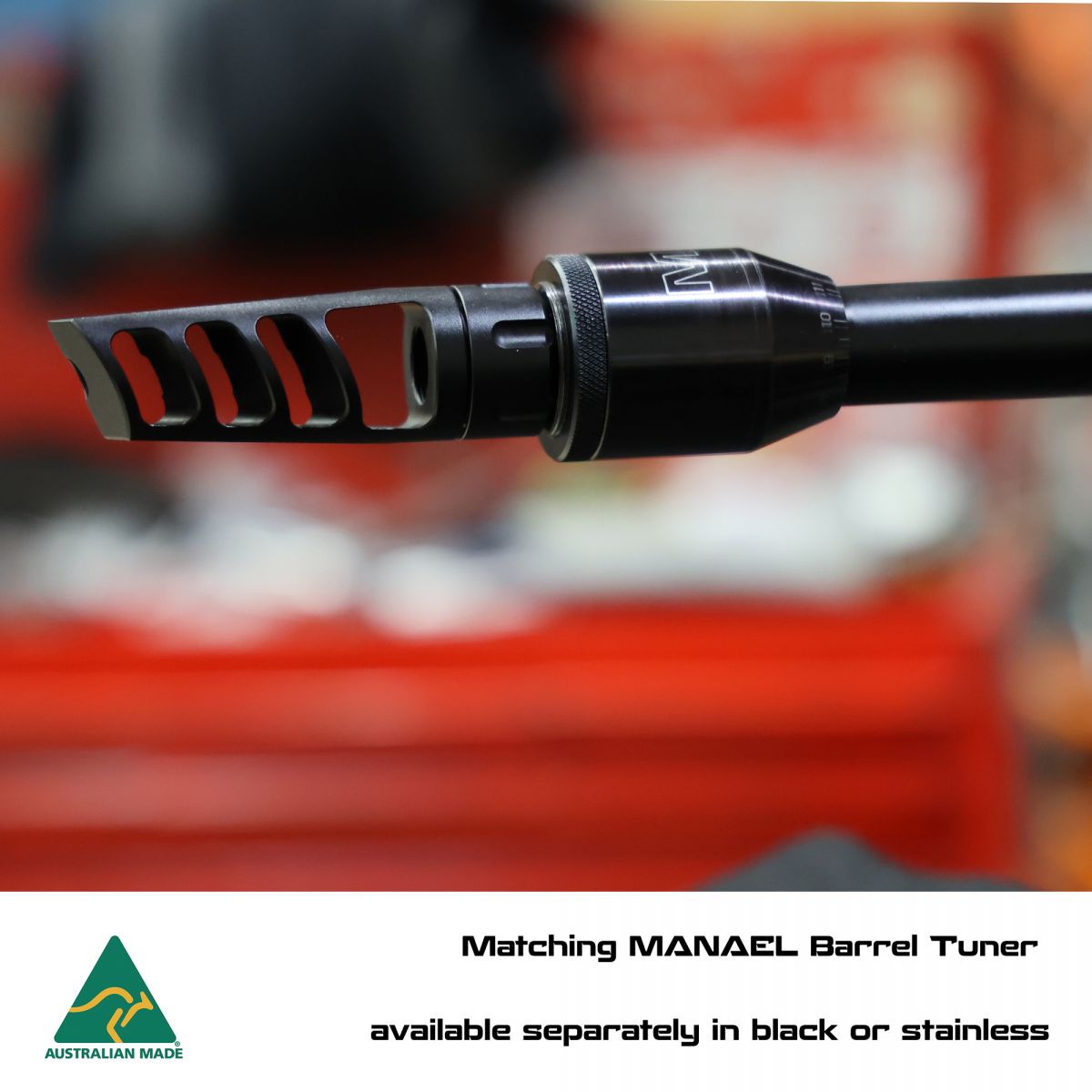 Specifications
Two sizes (see size guide below)
Stainless steel or black Cerakote finish .
Muzzle thread 5x8x24 TPI (others to come)
Includes lock nut tightening tool which doubles as a cool MANAEL bottle opener!
Weight: 180 grams
​Size guide
6.5mm - suits calibres up to 6.5mm
.30cal - suits calibres up to 30 cal (inc .308)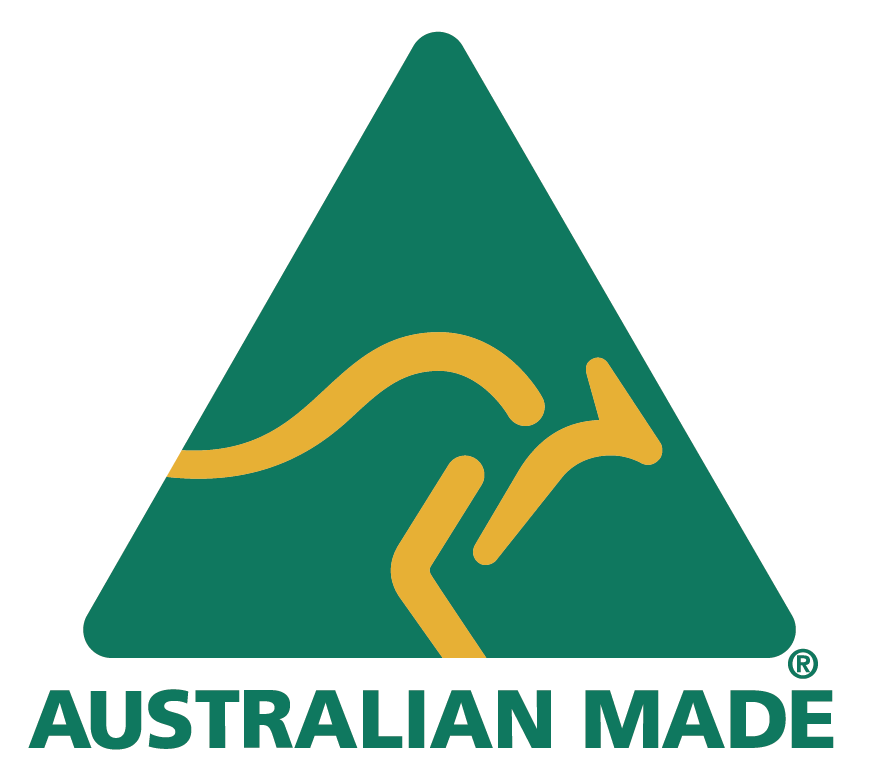 Support local jobs. This product is 100% Australian made by Aussie firearms manufacturers MANAEL.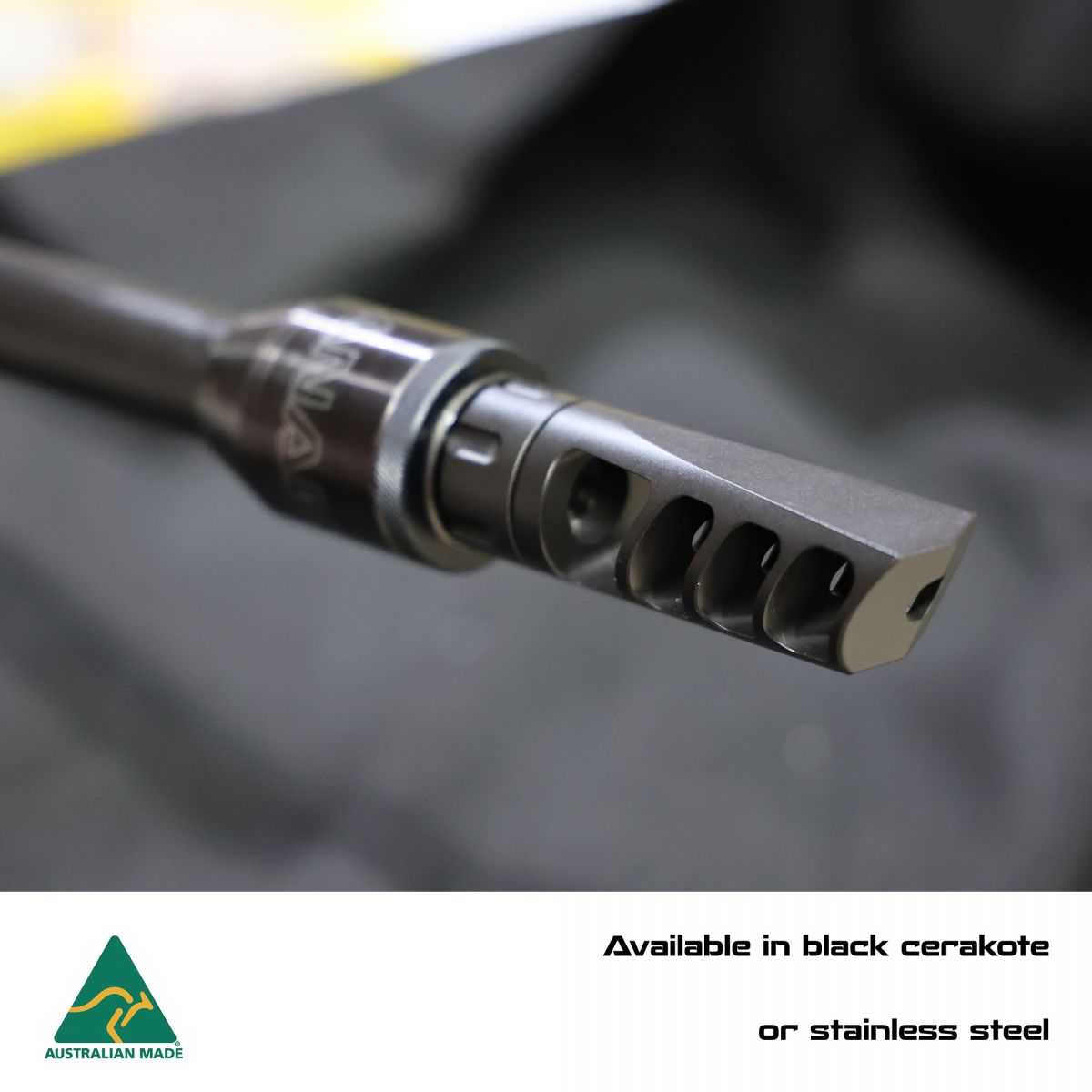 Instructions for Install
Please read this guide completely before starting installation or use. Ensure your firearm is clear of all ammunition and is verified as unloaded and your firearm is in safe working condition prior to installation and use. Run a patch through your barrel and muzzle devices before use. You are responsible for confirming and complying with your state or territory firearms laws and regulations and where appropriate, advising your state or territory firearms authorities prior to any modification. Please refer to your local state or territory firearms/weapons act and regulations.
Wipe down barrel muzzle thread to ensure no debris or dirt on threads. Apply dab of grease or anti seize on clean threads.
The MANAEL muzzle brake and lock nut come pre-assembled. You do not need to disassemble these parts.
Screw MANAEL muzzle brake and nut onto barrel thread (the lock nut should be closest to the receiver).
Adjust the brake align until you are happy (this is called "timing" the brake. If the top of the barrel is 12 o'clock, when correctly timed, the to of the brake will sit at 12 o'clock and the side ports to face 3 and 9 o'clock).
Secure the brake alignment by unwinding the muzzle brake lock nut until you feel it jam against the barrel shoulder. Tighten with the provided spanner.
Run a patch or bore snake through your barrel and brake to ensure no obstructions.
With bolt removed from the cleared rifle, look down the chamber towards the muzzle.
The muzzle brake is now installed.
(MAN_MBRK-V2-SFT)
| | |
| --- | --- |
| SKU | MAN_MBRK-V2-SFT |
| Brand | MANAEL |
| Shipping Weight | 0.2000kg |
| Shipping Width | 0.050m |
| Shipping Height | 0.050m |
| Shipping Length | 0.100m |
| Shipping Cubic | 0.000250000m3 |
Muzzle brake

By:

Aaron Tanner

on 29 January 2022

Beautifully made product. Works amazing. Completes my rifle




(5)
We Also Recommend
Others Also Bought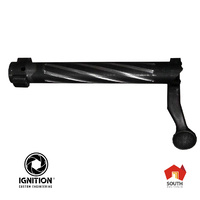 From $225.00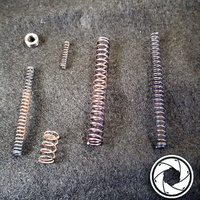 From $85.00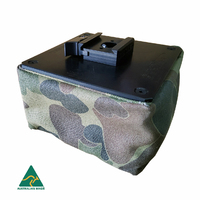 MANAEL Arca Swiss TORTOISE Barricade Bag
$355.00
More From This Category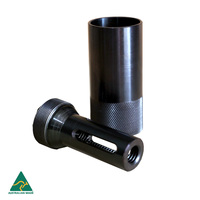 MANAEL Flash Hider & Blast Shield
From $330.00
MANAEL Self Timing Muzzle Brake & Tuner Bundle
From $530.00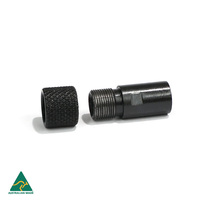 GSG 1911 Thread Adaptor & Protector
From $275.00