Timney Triggers Featherweight Mauser Trigger. Calibrated from factory and ready to drop-in. 
Adjustable pull weight 1.5lb to 4lb.
Fully adjustable for creep/sear engagement amd over travel/follow through.
This trigger has no safety.
This is a drop-in trigger with no gunsmithing required. Contact us for professional installation or adjustment by our Adelaide gunsmiths.
Compatable with
Argentine Model 1909
Belgian Model 1889
Belgian Model 1935
Belgian Model 1936
Brazilian Model 1907
Brazilian Model 1908
Brazilian Model 1909
Chilean Model 1912
Chilean Model 95
Chinese Model 1907
Chinese Model 1908
Chinese Model 1921
Chinese Model 95
Columbian Model 1912
Columbian Model 1929
Costa Rican Model 1910
Czech CZ Model 1924 CZ 24 BRNO
Czech Model 1933 GZ 47 Sporting
Czech Model CZ 12
Czech Model CZ 98/29
Czech Model CZ 99/22
Czech Model CZ L
Ecuadorian Model 1909
Ethiopian Model 1924
Ethiopian Model 1933
German Model 33/40
German Model 40K
German Model 98
German Model 98K
Guatemalan Model 24
H&H Mauser
Hoffman Mauser
Husqvarna Mauser
Interarms Mark X
Iranian Model 49
Iranian Model 98/29
J.C Higgins Model 50 & 51
Lithuanian Model 1924
Mexican Model 95
Mexican Models 1907
Mexican Models 1910
Mexican Models 1912
Mexican Models 1936
Mexican Models 1954
Model V24
Paraguayan Model 1907
Paraguayan Model 1929
Parker-Hale Mauser
Persian Model 95
Peruvian Model 1909
Peruvian Model 1935
Polish Model 98
Portuguese Model 1904/M38
Romanian Model 24
SAKO Mauser
Santa Barbara
Serbian Model 1908
Serbian Model 1910
Serbian Model 98/09
Siamese Model 1904
Siamese Model 1945
Spanish Model 43
Spanish Model 95 & 96
Standard Model
Swedish Model 38
Swedish Model 40
Swedish Model 41
Swedish Model 96
Swedish Model 98K
Swedish Model Sniper
Turkish Model 1903
Turkish Model 1946
Uruguayan Model 1909
Uruguayan Model 95
Venezuelan Model 1910
Venezuelan Model 1924/30
Westley-Richards 318 Magazine
Whitworth Mark X
Yugoslavian Mark X
Yugoslavian Model 1928
Yugoslavian Model 1948
Yugoslavian Model 90T
(TIM_TRIG_TT20X)
| | |
| --- | --- |
| SKU | TIM_TRIG_TT20X |
| Brand | Timney Triggers |
Others Also Bought
From $215.00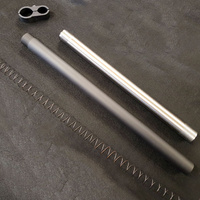 From $250.00
More From This Category
Timney Ruger Precison Rifle 2 Stage Trigger
From $375.00
TriggerTech Rem 700 Diamond Trigger
From $493.00
Timney Howa 1500 Trigger with Safety
From $235.00
Timney Ruger American Adjustable Trigger
From $245.00
From $215.00
TriggerTech Rem 700 Primary Trigger (with bolt rel
From $265.00